How To
by: Glenn and Danny
Editor's Note: This articles comes directly from gunsmiths who work at Umarex USA.
Whenever we get into a discussion with someone about rifle scopes, inevitably the subject of parallax arises. Scope parallax confuses a lot of people, and there is a great deal of misunderstanding on the subject.
First things first; the term "parallax" is used to describe the difference in angles between objects that are seen up close and those seen far away. When you are driving and look at telephone poles pass by on the side of the road, those closest to your car seem to pass very fast, while the ones far away seem to go very slow. That difference is due to parallax.
In general, it is wise to keep the old phrase in mind, "The better you can see your sights and your target, the more accurately you will shoot."  However, that phrase is only true as long as your sights are pointing in the same place from one shot to the next. Telescopic sights allow you to see much further distances, but they create new sighting problems with rifles that never were a problem in the old iron-sighting days.
A scope with parallax issues can wreak havoc on a person's air rifle accuracy as well as sanity! We see this issue frustrate people to no end time and time again in our service and gunsmith departments. If you don't know what's going on and how to check for this problem then you could be wasting hours at the range trying to figure out what is causing the "accuracy" problem.
Many modern day airgun scopes have an adjustable objective (AO) feature, which is located at the forward end of the scope or the turret. There will be an adjustment ring with yardage numbers that can be rotated to coincide with the distance at which you are shooting.
If you are suspicious that there may be parallax issues with a scope then place the gun in a solid rest that totally supports the gun without you holding it. Place a target at a known distance and set the AO ring to coincide with that particular distance. Adjust the gun rest so that the crosshairs are centered on the bull's-eye.
Adjust a gun while on a solid "hands free" rest to correct for parallax.
Now, move your head left and right about 1" in each direction. The crosshairs should remain centered on the bull's-eye as you move your head left and right. If the crosshairs are wandering off the bull's-eye then there is an issue with the parallax at that distance for that scope when you are shooting it.
It should be noted that distances marked on the scope are not necessarily written in stone. A person's own optics of their eye comes in to play for a certain scope at a certain distance. Some scopes do not put markings on the scopes for this very reason, instead saying to use the test (above) to find the point of zero parallax error for each distance and then use a silver or white paint pen to mark the positions. If you do notice an issue with parallax on your gun, you can try rotating the AO incrementally to see if the parallax issue can be eliminated, and then noting the position that the AO is in for that distance. If you are unable to eliminate the parallax, then we suggest replacing the scope with another one.
The parallax issue is a critical one for hunters and target shooters. The crosshair remaining centered on the bull's-eye when moving your head left and right is of utmost importance. The reason being…if you didn't position your cheek at the exact same spot on the stock each time you are shooting then it would be like moving the rear sight, which of course changes your point of impact. By its very nature, parallax is more of an issue at close distances and becomes less of one the further out one aims. Because air rifles are usually aimed at much closer distances than firearms, parallax can be much more of an issue among air rifle shooters.
So, if you find yourself becoming increasingly frustrated with sighting in your rifle, look at parallax as an issue that might need to be eliminated.
Learn More about items mentioned in this article:
by: Glenn and Danny
Editor's Note: This articles comes directly from gunsmiths who work at Umarex USA.

When it comes to proper pellet selection for Umarex airguns that use rotary magazines, we time and time again see people choosing the wrong pellets. At best, a wrong pellet will shoot inaccurately, and at worst it can damage the magazine or gun itself.
We recommend that airguns utilizing a rotary style magazine not be loaded with pointed pellets. This is because pointed pellets are typically longer in length than other styles of pellets, and if they protrude from within the dimension of the magazine then it will likely result in the gun not cycling properly. This is because the end of the pellet can "catch" and cause the gun to cycle improperly. Pointed pellets can also damage the internal hand that rotates the magazine, which leads to future problems with the gun mechanism being able to rotate the magazine to the next chamber when you try to shoot.
The tips of pointed pellets can protrude from rotary magazines, causing damage.
In general, if the tip of the pellet is slightly protruding it can make contact with the internal gun surface and create resistance thus not allowing the proper rotation of the magazine. Besides the possibility of causing internal damage to the gun, this situation can result in misalignment of the pellet with the bore and a normal discharge cannot take place.
If the internal rotating hand is damaged then it will require repair by one of our highly trained gunsmiths. If you have a gun that utilizes this style magazine and it does not seem to be functioning properly, you can check the rotary magazine to see if it has any damaged teeth, which would prove this to be the case. The gun may cycle for several shots and then fail to discharge properly. If one of these teeth gets distorted and the gun cycles to that particular spot on the magazine you will experience problems. That magazine must be discarded to avoid damage to your gun. A high quality, well fitting pellet such as RWS German made pellets are suggested for optimum performance. The RWS Meisterkugeln, RWS Hobby, and RWS Superdome are superior pellet options for Umarex Airguns.
For an overview of the different types of pellets, see the How To Choose an Airgun Pellet article. For a comparison of hunting pellets, see the article, "Best Airgun Pellets for Hunting.
by: Randall Mitchell
Hunting with an airgun is one of the most enjoyable pastimes that I have run across in the last decade or so. I have been an avid hunter since I was old enough to keep both ends of the rifle off the ground, but in the last several years, airguns have grabbed my attention as the tool of choice for my hunting forays.
Whenever you hunt with a firearm or airgun, one of the more important items you will need is a suitable round of ammunition for the gun of your choice. In airguns, this translates into a pellet. A pellet is a projectile that looks very much like a badminton shuttlecock, or birdie, in that the vast majority of pellets these days have a "skirt" on them. The purpose of the skirt is to engage the rifling of the barrel, and give the air a platform to push as it is routed through the internals of the gun. In a spring-piston gun, the air is quickly compressed by a piston, while in a pneumatic or CO2 gun, the air or gas is released through a valve of one type or another.
In the picture to the left, you can see four different pellets offered by Umarex USA. There are other pellets in addition to these (see ammo page), but for the use of this article, we'll discuss the top 3. They are, from top to bottom, the RWS Supermag, the RWS Superdome, the RWS Super H-Point, and the RWS Superpoint. The Supermag is the wadcutter-style pellet on the top. The Superdome is the round-nosed pellet, while the Super H-Point is the hollow point pellet.
Now, of the pellets seen here, which one would you use for which hunting scenario? Well, the best answer, of course, is which pellet provides the greatest accuracy in your airgun! Without hitting the target, the type of projectile you use is academic at best. But there will be hunting situations that call on a particular kind of pellet, and I'll describe a couple of scenarios for you to ponder.
For all-around use, it is hard to beat the domed pellet. It offers great accuracy, carries well at greater distances, and provide excellent energy retention when shooting live targets. I use domed pellets in the vast majority of my hunting scenarios….squirrel hunting, avian pest control, and targets of opportunity while I'm in the field. However, there are certain times when I switch to the Super H-Point.
If the target in question is a bit tougher than my normal air gun prey, let's say a groundhog or possum, or maybe a nutria rat in the south, I may switch to a hollow point pellet such as the RWS Super H-Point in order to maximize the lethal damage upon impact. One thing I want readers to realize before using a hollow point is that you need to be pushing that pellet along at a pretty good clip before you realize any advantage over another style pellet. Hollow point pellets WILL expand, but they need velocity at the point of impact in order to do that. So use your more powerful airguns in order to gain the greatest amount of usefulness from the design of the hollow point pellet. If you don't have the required velocity, then you are essentially shooting a wadcutter.
Wadcutter pellets, such as the RWS Supermag, are fantastic pellets for target shooting. They cut nice, round holes in the cardstock targets used in competition, making the scoring that much easier. But there are hunting scenarios that call for wadcutters, making them the best pellet for the job.
From time to time, I have the chance to eradicate avian pests such as English sparrows and European starlings from barns, store fronts, and other areas that don't qualify for the term "hunting afield". In situations like this, over-penetration is the enemy of the shooter. There isn't a farmer alive that will appreciate your shooting holes in his barn roof because you used the wrong ammo in the wrong gun! So when I have delicate shooting opportunities that call for precise application of force to a light-bodied target, I use the RWS Supermag, or wadcutter. The broad frontal surface of this pellet helps in containing the over-penetration of the pellet in the body of a sparrow, starling, or rat. Coupled with a lower-powered airgun, you can select your shots with more confidence since you are less likely to shoot a hole in the roof. It takes some practice, but if you work at it, you will be able to do some amazing pest control without any collateral damage to property or merchandise in a store, barn, or other public venue.
It wasn't long ago that I had a raccoon raiding my bird feeders. I finally caught up with him one evening, and used an RWS Superdome to end his raiding forays. On the right, you can see a picture of the cleaned raccoon skull, complete with the pellet still stuck in the bone structure of the head. The kill was clean, quick, and effective. The raccoon didn't suffer needlessly, and I wasn't left with a wounded, upset animal on my hands to deal with. Combining the right pellet with the right hunting or pest control situation makes your airgun shooting just that much more enjoyable. So pick the right pellet, and head out to the field!
Or, if you want to try a variety of different pellets at the same time to see which kind best suits your different scenarios, think about trying the RWS pellet sampler package (4 types), which contains the Superdome and Super-H Point mentioned in the above article, along with the RWS Meisterkugeln (match grade accuracy), RWS Hobby (balanced for all shooting situations), and RWS Superpoint (increased penetration). This would give you the opportunity to try a mix of pellets for shooting situations that might come up in the future.
The lubrication of any mechanical device is critical for long-term enjoyment. Lubrication of moving parts and seals ensures proper function and extends the life of the product—be it a vehicle engine, circulating fan, or a door hinge. Without proper lubrication, moving parts and seals will be subject to excessive wear and a shortened life. Your air rifle is no exception. Following are five points on an air rifle that should be lubricated at 1000 shot intervals (or after every two tins of 500 count RWS pellets). Remember, before doing any maintenance always make sure your airgun is unloaded and un-cocked.
View airgun maintenance kits and products on our web store.
Watch the Video: Every 1000 Shots – Proper Lubrication of Your Air Rifle.
The lubrication of any mechanical device is critical for long-term enjoyment. Lubrication of moving parts and seals ensures proper function and extends the life of the product—be it a vehicle engine, circulating fan, or a door hinge. Without proper lubrication, moving parts and seals will be subject to excessive wear and a shortened life. Your air rifle is no exception. Following are five points on an air rifle that should be lubricated at 1000 shot intervals (or after every two tins of 500 count RWS pellets). Remember, before doing any maintenance always make sure your airgun is unloaded and un-cocked.
View the RWS Shooter's Kit.  It is helpful for maintaining your air rifles.
Piston Seal
The piston seal requires regular maintenance in order for your air rifle to achieve optimum performance. With proper lubrication the seal moves smoothly in the compression chamber, experiences less wear and therefore an extended life. If the pistol seal becomes worn, air is allowed to escape from the compression chamber, which will reduce pellet velocity. After every 1000 shots, apply two drops of RWS Chamber Lube down in the compression chamber port. You can use a 3-1/2 inch applicator needle that attaches directly to your RWS Chamber Lube bottle to ease this application. Regardless of brand, be sure to us a non-petroleum based lubricant. Regular types of petroleum-based oils will cause your gun to diesel. Dieseling is the explosion created by the igniting of petroleum-based oil in the compression chamber due to the extreme air temperature created when the air rifle is discharged.
Breech Seal
The breech seal is a rubberized O-ring located at the back of the barrel where the pellet is seated. If this seal dries out, air can escape which will diminish the velocity of your air rifle. Apply one drop of RWS Chamber Lube to the outer edge of the breech seal after every 1000 shots.
Main Spring
The main spring should be lubricated to maintain proper flex and free movement. Some air rifles require the stock be removed to access this area. We recommend applying 6 drops of RWS Spring Cylinder Oil to the main spring. Again, every 1000 shots is key.
Hinges and Pivot Points
Anything that moves is subject to sticking or squeaking if not lubricated. After every 1000 shots use RWS Spring Cylinder Oil to lube the hinges of triggers and pivot points on break barrel rifles. Just one drop is all it takes. Oil the hinges of cocking arms on under-lever and side-lever air rifles as well as the bolt on bolt-action models like the 850 Air Magnum. Don't forget to occasionally lube the threads of the exchangeable barrel retainer or the hinge of the pawl on the Hämmerli X2 dual caliber air rifle.
The Barrel
Without cleaning and lubrication, your air rifle's barrel can experience a build-up of debris or even worse, rust. Any obstruction in the barrel will result in diminished velocity and very poor accuracy. Apply this solution to a clean patch and pass through the barrel from the breech end if possible. Then, use a bore brush with nylon bristles to further loosen remaining deposits of lead and debris. Next, run clean patches and the cleaner/degreaser through the bore until they appear clean upon exiting the barrel. Do not allow the bore cleaner to make contact with any seals/o-rings. Finally, run a patch, lightly oiled with RWS Spring Cylinder Oil, through the barrel. Always push the patch from the breech end if possible. An RWS Flexible Cleaning Rod may help with this process.
One final note: Too much lubrication can be damaging to your air rifle. Apply only the recommended amount.
Paying attention to these five areas on your air rifle should provide you with many years of air rifle shooting. Should you have any questions, you may contact Umarex USA's service department by phone or e-mail. Watch this YouTube video by Umarex USA on how to clean your air rifle's barrel after every 1000 shots.  Visit Umarex USA's YouTube channel for other airgun videos.
To make sure your air rifle provides a long life of shooting, be sure to clean your air rifle and keep its metal parts lubricated to prevent rust and residue build-up.
After each shooting session run a lightly oiled cloth over all gun metal. The RWS Spring Cylinder Oil works great for this application.
At 100 shot intervals clean gun barrel with RWS Felt Cleaning Pellets. Insert two of the correct caliber felt pellets into the breech end of barrel. Push cleaning pellets through barrel and repeat process until felt pellets appear clean when exiting the muzzle.
Watch this YouTube video by Umarex USA on how to clean your air rifle's barrel after every 100 shots.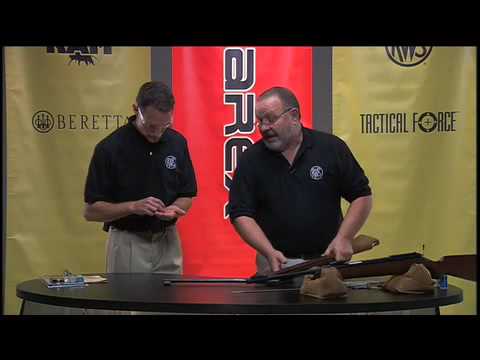 Visit Umarex USA's YouTube channel for other airgun videos.